ACES acts effectively through its website www.aces.org.uk and through its branch structure. There is a Rural branch which operates nationally, and the designated branches are shown below:
Eastern
Heart of England
London
North East
North West
Scottish (including Northern Ireland)
South East
South West
Welsh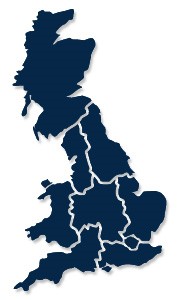 The area covered by each branch is:
North East Branch – Northumberland, County Durham, North Yorkshire, West Yorkshire, South Yorkshire and East Riding of Yorkshire.
Eastern Branch – Lincolnshire, Cambridgeshire, Norfolk, Suffolk, Essex and Hertfordshire
London Branch – London
South Eastern Branch – Kent, East Sussex, West Sussex, Surrey, Berkshire, Hampshire and Isle of Wight
South West Branch – Cornwall, Devon, Somerset, Dorset, Wiltshire and Gloucestershire.
Heart of England Branch – Derbyshire, Nottinghamshire, Staffordshire, Leicestershire, Shropshire, West Midlands, Herefordshire, Worcestershire, Warwickshire, Oxfordshire, Northamptonshire, Buckinghamshire, Rutland, Bedford and South Bedfordshire.
North West Branch – Cumbria, Lancashire, Greater Manchester, Merseyside and Cheshire.
Welsh Branch – Wales
Scottish Branch – Scotland and Northern Ireland.
Branches typically meet three times a year at locations selected by their members. Each branch conducts its meetings to suit its members, but the day or half day often includes a local visit, a talk by an expert on a chosen subject, dissemination of ACES national business and conference information and general discussions on all those topics of professional interest – particularly new government initiatives and those knotty estates and asset management 'challenges'. Time spent at ACES meetings qualifies as CPD for RICS training requirements. There is generally no additional charge for attending branch meetings nor for the CPD element provided at the meetings.
Contact Us
If you would like to get in touch give us a call and we can help answer any questions.